Lawrence College Prefectorial Board 2017-18 Sworn in
In a gracefully conducted ceremony, the new Prefectorial Board 2016-17 was sworn in on June 13, 2017. These prefects were selected through minute screening and evaluation of the candidates' academic records, performance in co-curricular, extra-curricular activities, and sports; followed by personal interviews with the worthy Principal.
The investiture ceremony started with recitation from the Holy Quran by Huzaima Asim and translation by Mehran Shahid of Class VIII. After the recitation, the Vice Principal announced the Prefectorial Board 2017-18. The oath of the Headboy was administered by the Vice Principal. It is a matter of great pleasure that, for the first time, we have Headboy from Gilgit-Baltistan. The Headboy administered the oath to the Deputy Headboy and Prefects.
The new Appointment Holders are as under:
Headboy

Deputy Headboy

Prefect Day Boys

Muhammad Rizwan Haider (Wright House)

Muhammad Ayub Khan (Walker House)

Abdullah Khan Tipu (Peake House)

Prefects Peake House

Hafiz Haris Waseem




Nisar Ahmed

Prefects Walker House

Shehryar Ranjha




Zakria Yaseen

Prefects Wightwick House

Muhammad Hussain




Muhammad Hashim

Prefects Wright House

Makhdoom Daniyal Ahmed




Ahmed Wali
In his address, the Principal felicitated the new Prefectorial Board and hoped that not only the new appointment-holders, but the whole Inter Class, being the senior most class, will come up to our full expectations, and will create a healthy and positive environment where everybody could participate in academic and co-curricular activities in a comfortable way. He advised them to set academics and character building as their top priorities, and to take care of the name of the College. He reminded the students that there is zero tolerance for bullying, cheating and abusive language which are absolutely unacceptable in any form. Respect has to be earned and not forced. He told them to recall and repeat their oath periodically to realize their responsibility.
Furthermore, the Principal advised the boys to shun any bias or prejudice. He said that it was important that we respect disagreement and difference of opinion. Giving reference of Surah Al-Nahal (Ayah 125), he said that Allah (SWT) asks us to develop discussion with wisdom, patience and in a very civilized manner. The use of 'the hikmat of knowledge' and 'the hikmat of action' is of great importance in this regard. Winning an argument is not what matters, but it is important that everybody shares his point of view in a decent and civilized manner so that we learn from each other. Therefore, we should always strive to develop a culture with mutual respect as the core value. The Principal made it mandatory for all schools to teach the ethics of disagreements to their students on regular basis, whenever and wherever they have an opportunity. This shall have an overall positive impact on our society.
He said that the best guidance for us is Quran and Sunnah. Unfortunately we read them without understanding, so we don't benefit much. It is advised that we read Quran and Hadith with translation in order to seek maximum guidance from them.
In the end, the Principal once again congratulated the Prefectorial Board and the whole Inter Class in their new responsibility. He assured them of his full support and that of the faculty.
Quaid Gallery established at Lawrence College
In order to introduce Gallians to different aspects of the glorious life of our great leader Quaid-e-Azam Muhammad Ali Jinnah and reveal his lifelong struggle, Quaid Gallery has been established in the Senior School Library. The Gallery depicts the life of the founder of Pakistan through a huge collection of rare and wonderful photographs. Since its inception, the Gallery has charmed the students and visitors with its magnificent display.
The vision of the Principal is to equip the students of Lawrence College with necessary life skills and knowledge. The establishment of this Gallery is a part of a series of steps taken in this regard, with the purpose to develop patriotism, motivate the students to work selflessly and sacrifice for their motherland, in order to produce accomplished citizens who are ready to serve the nation preferring national interest to their individual interests.
Results of Prep School's A and B Leagues, 2017
Results of Hockey A League
| | |
| --- | --- |
| Position | House |
| 1st | Wright |
| 2nd | Peake |
| 3rd | Wightwick and Walker (Shared) |
Results of Hockey B League
| | |
| --- | --- |
| Position | House |
| 1st | Walker |
| 2nd | Wright   |
| 3rd | Peake |
| 4th | Wightwick   |
Results of Football A League
| | |
| --- | --- |
| Position | House |
| 1st | Peake |
| 2nd | Wright |
| 3rd | Wightwick |
| 4th | Walker |
Results of Football B League
| | |
| --- | --- |
| Position | House |
| 1st | Wightwick |
| 2nd | Walker |
| 3rd | Peake |
| 4th | Wright |
Results of Basketball A League
| | |
| --- | --- |
| Position | House |
| 1st | Peake |
| 2nd | Wightwick |
| 3rd | Wright |
| 4th | Walker |
Results of Basketball B League
| | |
| --- | --- |
| Position | House |
| 1st | Wightwick |
| 2nd | Walker |
| 3rd | Peake and Wright (Shared) |
High Achievers awarded laptops under the Chief Minister's Laptop Scheme
Seventeen outstanding students of Class XI and XII were awarded laptops under the Chief Minister's Laptop Scheme. The ceremony, held on 24th of May, 2017 at Government Viqar-un-Nisa College for Women, was marked by the presence of high achievers from different institutions affiliated with BISE Rawalpindi. The students scoring 90% and above marks received laptops from the Punjab Government.
We wish and hope that, in the coming years, the ratio of high achievers will increase to a greater extent and a larger number of students will win such prizes and awards.
Sports Event at Junior School
Junior School arranged 'Mini Sports Day' on 19th May, 2017. On this occasion, the school grounds and surroundings were nicely decorated with banners and balloons. A week of preparation preceded the day.
The students enthusiastically took part in various games. Main activities of the event included hurdles' race, rabbit race, aerobics, karate, PT, balance race, three-legged race, sack race and wheel barrow race.
The Principal, in his speech on the occasion, welcomed all the parents and local guests. He highlighted the importance of games and sports in the overall physical development of young boys at the junior level. He said that it was important in order to inculcate a healthy competitive spirit among them. He also emphasized that sports play key role in improving and maintaining health and fitness, improving mental skills, and concentration level. He also appreciated the efforts of the Junior School's management and staff. The event was concluded with prize giving ceremony. At the end, tea and refreshments were served to guests.
From the Principal's desk - May 16, 2017
Dear Parents/Guardians,
I am confident this year will also prove successful in all aspects of academics, co-curricular and sports as we are striving for the highest standards in the best interest of your sons.
We are also giving a great deal of importance to character building and personality grooming of the boys. Strict enforcement of discipline and college rules is also being ensured. Parents are requested to keep advising their sons to respect college rules and maintain discipline. We have initiated a lot of improvements which, I am hopeful, will benefit your son in multiple ways.
I would like to remind the parents that four years back when I joined Lawrence College as the Principal in June 2013, I noticed a common, but highly undesirable, practice of giving gifts/presents by the parents and the students to the staff to earn their favour. I strongly believe in selflessness and dedicated services solely for the sake of professionalism and repute of the College. 
The cultivation of relations among some parents and staff on the basis of such gestures of gifts and favours may alter the priorities and damage the elements of self respect and improvement. Since the time of my joining in 2013, I have made it known to everyone, including parents, that any such exchange of gifts and favours is strictly prohibited and would never be acceptable in any case. I have made it absolutely clear to all my staff that they are NOT allowed to demand or accept gifts/presents or favours from any parent or student.
In the overall interest of your son and the College, you are requested to cooperate whole heartedly in this regard with College administration, and inform me immediately if any teacher or staff makes any demand from you or your son for any gift, present or favour.
Best wishes and regards to you and your family.
Participants of Young Ulama Leadership Programme 2017 visit LCGG
A group of fifty participants of Young Ulema Leadership Programme 2017, belonging to different reputable religious educational institutions visited LCGG  on May 12, 2017 in the leadership of Maulana Jahangir Mahmood. On their arrival, the guests were taken to the Principal's office where they had a meeting with the Principal. The guests were served with tea and refreshments whereafter the group took a tour of the college.
Later on, during Juma prayers, Maulana Jahangir Mahmood addressed the congregation assembled in the mosque. He explained the ways in which the Holy Prophet (peace be upon him ) reformed the society whose moral values were decaying fast. Maulana Jahangir Mahmood laid emphasis on Holy Prophet's patience and compassionate behaviour. Maulana shared some of his personal experiences in which he successfully conveyed his point of view to his opponents in a humble  manner.
After Juma prayers, the contingent departed from the college.
An eminent Old Gallian Brigadier Jaffar passes away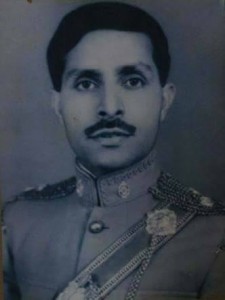 We are grieved at the sad news of the death of a distinguished Old Gallian, Brig. (Retd) Jaffar Khan, Peake House 1949 – 1957. He lost his battle with cancer and passed away on 11th May, 2017. He was affectionately known as Jeff by his friends and colleagues.
Brigadier Jaffar distinguished himself at PMA and won the Sword of Honour. He was commissioned in Guides Cavalry and went on to serve meritoriously in Pakistan Army for thirty years. He was appointed as Adjutant and Commandant of the then President's Bodyguard. He was Chief Instructor at the Command and Staff College Quetta, and was also selected for the RCDS course in the UK. He will always be remembered as a thorough gentleman and an outstanding officer.
The Principal, staff and students express their sincerest condolence to the bereaved family and friends of Brigadier Jaffar. May his soul rest in peace.
Old Gallians visit their alma mater
Some of the senior Old Gallians visited the College on 6th May, 2017. They were welcomed by Maj (Retd) Ayyaz Mehmud who accompanied them to the Principal's office. There, the alumni had a detailed meeting with the Principal regarding supporting the Principal for well being of the students, staff and the institution. After the meeting, they were taken on a tour of the Senior School Library where they visited the newly established Quaid Gallery. The Principal briefed the visitors about the Quaid Gallery that depicts the life of the founder of Pakistan through a huge collection of rare and wonderful pictures.
Following the visit of the Quaid Gallery the guests were served lunch at principals residence. Then the Old Gallians visited the Junior School, College Chapel, College Hospital and the Prep School dorms. The guests were served tea in the Prep School Dining Hall before they left the College.
Junior School's Faculty attends 3rd ELT Conference 2017
The faculty of Junior School attended 3rd ELT Conference, arranged by Ali Institute of Education, Lahore on 29th of April, 2017. Five faculty members participated in it. The ELT Conference provided a platform for English language teachers, administrators and educators to share ideas, experiences and best practices in diverse aspects of English language teaching.
The theme of this conference was ELT teachers as agents of change. The conference was divided into a series of workshops and panel discussions. Experienced trainers conducted workshops on a variety of topics. All the workshops were informative and useful for English language teachers. They can implement that information and ideas for effective language learning.
Chinese delegation visits LCGG
A delegation of 12 Chinese teachers and media personnel, accompanied by Mr. Makhdoom Babar, Chairman Pak-China Media Friendship Association, visited Lawrence College on 29th of April, 2017. The visit was sponsored by Pak-China Media Friendship Association and aimed at promotion of Chinese language and Pak-China Friendship.
On their arrival, Maj. (Retd) Ayyaz Mahmud welcomed and escorted them to the schools and showed them educational facilities. After a visit of the College, the delegation came to Hamid Hall where Vice Chairman of Pak-China Media Friendship Association and studio incharge of FM 98 Mr. Chen Xiang Shaheen talked to Gallians about China and Pak China relationship. In his clear and fluent Urdu, he told the Gallians, in an interactive session, the secrets of the tremendous progress China has made. He told the Gallians that they, the Chinese people own their land in the true sense and sacrifice their personal interests for the national interest. He also informed the Gallians of the educational opportunities in China. Mr. Shaheen Chen also invited the students to tune FM 98 which is an Urdu channel aimed at promotion of Pak – China friendship.
After the lecture, the visitors were served with lunch after which they departed for Islamabad.
Ms. Shazia Lectures on Learning Behaviour
Acknowledging the importance of psychological bond of a teacher with his students, the Principal Lawrence College invited Dr. Shazia Shehzadi on 27th of April, 2017 for cementing the student-teacher relationship. Dr Shazia is a consultant psychologist and speech pathologist. She holds a masters degree in Applied Psychology and has specialized in Psycho-therapeutic treatment, speech pathology, hypnosis and silver mind control. She has vast experience of working with organizations of national repute.
The purpose of inviting a psychologist was not limited to students only, but the vision of the Principal LCGG voyaged beyond that, and teachers were also benefitted from her as regards learning and concentration issues with more challenging students. She also discussed some very helpful techniques for memory enhancement and to reduce stress during examinations and studies. The interaction and guidance from a psychologist was a unique experience for all of us and the things which were taken for granted by us in the past are likely to be handled professionally in future.
Vaccination against Hepatitis B and Typhoid
In order to extend health facilities to the students of Lawrence College, the Principal welcomed the proposal put forward by Brig Ikram-ul-Hassan, an Old Gallian, to get all the students vaccinated against extremely dangerous diseases Hepatitis B and Typhoid. The College was lucky to have it done at 60 to 70% discounted rates offered by Brig Ikram-ul-Hassan, MD of Amson Pharma Pvt Ltd.
Vaccination of all the students of Senior, Prep and Junior School was carried out under the supervision of College RMO in April 2017. In addition to that, as a special gesture of welfare from the Principal, our employees and their families including children have also been vaccinated and their payments made by College out of welfare. In total, 504 students, 360 employees and their families have been vaccinated.
The Principal extended his sincere thanks to Old Gallian Brig Ikram-ul-Hassan for his benevolence and immense concern for his alma mater.
Art Extravaganza
Art extravaganza, a regional level event was held at Lawrence College on 20th April, 2017. The theme of the Art Extravaganza was 'Peace on Earth'. The event was organized by the Junior and Prep Schools to create awareness among our students about accepting diversity and to stress the importance of peace and harmony amongst all the people of the world. In Art Extravaganza, nine prominent schools from Rawalpindi, Islamabad, Abbottabad and Murree such as Army Public School, Beaconhouse, St. Dany's, The Kids' City, Silver Oaks, The Froebel's International and Educators were invited to join the cause and participate in a colourful chain of events. All the competitions revolved around environmental themes such as climate change, pollution and planting trees.
The Chief Guest of the function was an eminent TV personality, Khawaja Najmul Hassan. The competitions were held from 9 am to 6 pm at three different venues and provided opportunities to all the participants to interact constructively with each other and get engaged in meaningful art activities and compete with each other in essay writing, poster making, bilingual declamation, solo singing, calligraphy, robotics and cultural dances.
The prize winners were awarded with prizes and certificates. The Chief Guest Khawaja Najmul Hassan, in his address, appreciated the performance of students. He gave some useful tips to the students and teachers regarding singing and other performances.
English teachers attend a workshop on Phonetics by Oxford University Press
A valuable training session was held in Islamabad on 19th April, 2017. It was organized by Oxford University Press on phonetics – a very important field in English language. Seven faculty members from the English department attended the session.
The official trainer of OUP, Ms Azka Khan highlighted the significance of teaching phonetics at school and college level. She emphasized upon the correct use of teaching consonant and vowel sounds; monophthongs, diphthongs and triphthongs, and differentiating them from English alphabets. She made an extremely effective use of modern teaching techniques. The trainer was highly professional and erudite in her subject.
The training session proved highly useful as it not only provided an insight into phonetic symbols, but also engaged the participants in useful activities that can be experimented by them in their classes. At the end of the session, the participants were awarded participation certificates.
Gallians Visit Islamabad Literature Festival
Islamabad Literature Festival, organized by the Oxford University Press (OUP) has become a marked event for the citizens of Islamabad, Rawalpindi and adjoining areas. The festival hosted avid readers, writers, academics, and literary figures from across Pakistan and the world, at the fourth Islamabad Literature Festival (ILF) held at Hotel Margala, Islamabad, from 14th to 16th of April, 2017. The three days festival was packed with talks, panel discussions, English poetry recitation, book fair, book launches, readings, author signings, performing arts and much more.
Twelve students of Senior Cambridge, accompanied by four teachers from Senior and Prep Schools, attended the festival on 15th of April. The group reached there by 4 pm. They attended the first session in Sangam Hall on the topic " Mohabbat aur Dehshat Gardi: Aaj ka Urdu Adab". The speakers were the great names of modern Urdu poetry Hameed Shahid, Irfan Urfi and Dr. Ravish Nadeem. After that session, the students moved to Margala hall where Harris Khalique and Asif Farrukhi were in conversation with Iftikhar Arif and talked on Life and poetry of a leading writer under the topic " Living through Seasons of Fear: Iftikhar Arif ".
After this, boys again went to the book stalls and then departed for Lok Virsa Museum where they enjoyed a wonderful exhibition of art and culture of different provinces of Pakistan including Gilgit-Baltistan at the 'Lok Mela' which was visited by thousands of people. After spending about one and a half hour there, the students and teachers departed for Lawrence College.
The Festival proved to be an exciting experience for the Gallians who enjoyed scholarly debates of prominent modern writers. It will certainly be helpful in broadening their vision and horizons of thinking.
Principal Stresses for Unity in the Morning Assembly at Prep School
On 13th of April, the Principal Lawrence College Brig (Retd) Mujahid Alam, honoured the morning assembly at Prep School. The morning assembly was conducted by students of Grade-VI. He appreciated the different segments of the assembly which comprised recitation, translation, naat, message of the day, question of the day, Gallian Code of Honour and national anthem.
In his concise but interactive session with the Gallians of Prep School, he gave reference of the Last Sermon of the Holy Prophet (PBUH) and shared some teachings from it: 
"All mankind is from Adam and Eve, an Arab has no superiority over a non-Arab nor a non-Arab has any superiority over an Arab; also a white has no superiority over black nor a black has any superiority over white except by piety (Taqwa). Learn that every Muslim is a brother to every other Muslim and that the Muslims constitute one brotherhood."
He emphasised that the message of Islam is actually the message of humanity, therefore, we should respect humanity crossing the boundaries of caste, colour, religion, sect, region or language. He quoted a thought-provoking verse of the Holy Qur'an where Allah Almighty says in Surah al-Baqrah:
"Indeed, those who believed and those who were Jews or Christians or Sabeans – those [among them] who believed in Allah and the Last Day and did righteousness – will have their reward with their Lord, and no fear will there be concerning them, nor will they grieve." (2:62)
He shared that no one has the right to consider others non- believers because Allah knows better. He stressed on doing good deeds instead of calling others wrong and to think positively so that the good relationships may be developed among individuals, groups, nations and countries.                   
Mr Imtiaz Akhtar Ranjha, the Headmaster Prep School, members of faculty, PTIs and matrons were present on the occasion.
Visit of Foreign Trainees of School of Military Intelligence
On 29th March, 2017, Foreign Trainees of School of Military Intelligence visited Lawrence College. The purpose of the visit was to acquaint foreign trainees with important historical places projecting a positive image and expose foreign trainees to the rich cultural heritage of Pakistan.
On their arrival, Maj. Ayyaz Mehmood welcomed and escorted them to the schools and showed them educational facilities. They were fascinated by a good hike within the College. They expressed their feelings by stating that it was a treat to watch the infrastructure and working of a historical institute.
At the end, they were served with refreshments during which they felt quite at home.
Muhammad Ishaq Khan takes charge as Deputy Headmaster Senior School
Muhammad Ishaq Khan has been appointed as Deputy Headmaster of the Senior School. He joined Lawrence College in the year 1995 as lecturer in Biology. He holds MSc. in Biology, M.Phil and MEd. degrees. He is the senior-most teacher at Lawrence College who has served the institution for over 21 years.
Mr Ishaq Khan has worked in a number of important capacities during his service tenure. He has worked as Head of Biology Department and Head of Sciences. He was appointed Controller of Examinations three years back and is successfully running the Examination Office to the convenience of the faculty and the students. He has also served as housemaster Wightwick House and Peake House for almost ten years.
Muhammad Ishaq Khan enjoys teaching his subject and motivates the pre-medical students to take up medicine as a profession and excel as Gallian doctor of the future to further enrich the intelligentsia of the College alumni. We hope that his appointment will provide an impetus to further improvement of College administration and strengthening of system of the College.
Senior School Participates in the Earth Hour
'Earth Hour' is a worldwide movement initiated by World Wide Fund for Nature (WWF) as a symbol for their commitment to the planet. It is celebrated by switching off all the non-essential lights. It started as a lights-off event in Sydney, Australia in 2007. Since then, it is held every year towards the end of March. This year, this day was celebrated on 25th of March.
The Senior School also participated in the Earth Hour to join the world in fight against climate change. The MoDs highlighted the purpose and importance of the Earth Hour concept in the respective dining halls. The students and teachers enthusiastically observed the event by turning off all the unnecessary lights, in the Houses and academic blocks, from 8:30 pm to 9:30 pm.
The event is an effort to make us realize how extravagantly we use energy. The event is a way to raise awareness and show us that it is possible to survive without all the electronic advancement and energy consuming products that we have grown so accustomed to. By cutting back, we can make a huge difference and can take part in the battle against global warming.
Gallians celebrate Pakistan Day, 2017
23rd  of March every year is marked for observing as Pakistan Day. This day is observed to pay tribute to those who struggled for an independent state for the Muslims of the Subcontinent. The purpose of celebrating this day is to keep the memories of those great people alive in the minds of the young generation.
Pakistan Day was celebrated at Lawrence College with true national spirit. The celebrations started with combined assembly in the Senior School lawn. Students and faculty from the three schools attended the assembly. Principal, accompanied by the heads of the schools, hoisted the national flag. Naa'ra-e-Pakistan was raised by the students and faculty. The assembly ended with du'a by Hafiz Atta-ur-Rehman.
The formal function was held in Hamid Hall. Dr. Tahir Hamid Tanoli, a renowned scholar and Director of Iqbal Academy, graced the ceremony as the Chief Guest who visited Lawrence College on special invitation by the Principal. The Head Boy, Ehsanullah Sherani, conducted the function. It started with recitation from the Holy Quran by Nauman Shaukat from Class VIII and translation by Mehran Shahid from Class VIII. Rai Talal Ahmed Bhatti of Class III from Junior School expressed his views about Pakistan Day. It was followed by a milli naghma by Junior and Prep School boys. Luqman Amin of Class VII from Prep School shared his feelings about the Pakistan Movement. After his speech, a presentation with the title 'Pakistan; The Wonderful' was shown. After the presentation, Makhdoom Daniyal of Class XI from the Senior School elaborated the efforts of our forefathers in creation of an independent homeland. Followed by this was a wonderful performance by the students from the three schools with the title 'United We Stand'. It depicted that Pakistan was achieved through unity and we need to be united if we want to make Pakistan great and strong.
The Chief Guest, while addressing the audience,, enunciated the universal values enshrined in the poetry of Allama Iqbal. He elaborated the philosophical evolution of the great poet of the East. Dr Tahir exhorted the students to follow the teachings of Allama Muhammad Iqbal, because those were the guarantee of liberation for the Muslims in the past and these eternal values can be assurance of freedom in the present times as well. He quoted the example of Iqbal when he declined to accept the title of 'Sir', until his teacher Molvi Mir Hassan was conferred upon the title of 'Shams-ul-Ulama'.
The Principal, in his address on the occasion, thanked the honourable Chief Guest for his wonderful talk and expressed his desire of inviting him again to the College. He stressed upon the need of deriving lessons from the historical Pakistan Movement.
The function ended with National Anthem.
Visit of Students from Remote Areas
On directions of COAS, GHQ arranged "Youth Awareness Programme" for college students from remote areas of FATA, KPK, Balochistan, Sindh and Northern Areas.
In this context, forty students accompanied by Lt Col Tahir visited LCGG on 15th March, 2017. They were warmly welcomed and accompanied to all three Schools by Maj Ayaz Mahmud.
Earlier on, Principal briefed them on the working of the institution and welcomed them in his office.
General Azhar Abbas, GOC 12 Div, Chairman Executive Committee, Visits Lawrence College
Major General Azhar Abbas, GOC 12 Div. and Chairman Executive Committee, visited Lawrence College Ghora Gali, on 14th of March, 2017.
The Principal welcomed him in his office and briefed him on the infrastructure and systems of the College whereupon he was taken to a visit of the three schools. He observed, with keen interest, the facilities of all three schools including Science Block, Hamid Hall, libraries, Language Lab and Computer Laboratories.
The maiden visit of the GOC to LCGG was highly encouraging for the faculty members and administrative staff. He looks forward to his frequent visits which would surely be beneficial for the College.
Trainees of Foreign Service Academy visit Lawrence College
A delegation of thirty five trainees including twenty four foreign students from various countries visited Senior School on 8th March, 2017. They admired the grandeur of this historical institution and acknowledged its enviable repute since its establishment.
They played basket ball with the College students and enjoyed a lot.
They were served with refreshments after which they departed from the College.
A warm send-off to Mrs. Shama Javed (HMJS)
"Nothing can be compared with the feelings of watching the gleaming faces of the Junior School boys coming back from their camp site; the stained shirts and the dusty shoes after a game of football; the exuberance of Gallians and Gallian-makers", said Mrs. Shama Javed, former Headmistress Junior School at her farewell lunch arranged in her honour on 4th of March, 2017.
Mrs. Shama Javed joined the Junior School as headmistress in 2009. During her career, she worked with great commitment and brought many novel ideas into practice. She had a creative mind and was always full of energy. Her efforts for the uplift of Junior School are unforgettable.
Talking to the gathering, former headmistress recounted that teaching had been a part of her life as long as she could recall and that she had a very rewarding career. She said that she would measure her career at Lawrence College in terms of learning and experiences.
The Principal, in his speech, highly appreciated the professional approach and creativity of Mrs. Shama Javed as Headmistress Junior School. He said that we would not be disconnected and would like to benefit from her experiences even after she had left the College. He told that everybody at Lawrence College will remember her and she could come and stay at the College whenever she felt like. The Principal LCGG also wished her enviable health and peace for the rest of her life.
Earlier on, the Junior School staff had also organized a farewell lunch in her honour. Everybody there looked gloomy on that day. The Junior School staff and students will never forget the impressions imprinted by their former headmistress. Mrs. Shama Javed was presented with souvenirs by the staff of Junior School and the staff of three schools.
Col. Nisar A Khan (Wright House 1958) Passes Away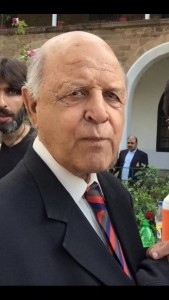 Col. Nisar A Khan (Wright House 1958), 15 Punjab Regiment, sadly lost his battle with cancer which he had fought for many years and died on 28th of February, 2017. He was affectionately known as 'Gabby' by his friends and colleagues. He was buried in his native village near Kotli Sattiyan the same day. Col. Nisar was a distinguished and active old Gallian who regularly attended different alumni gatherings.
The Principal, staff and students express their sincerest condolence to the bereaved family and friends of Col. Nisar A Khan. May the departed soul rest in eternal peace.
A distinguished old Gallian Major General Muhammad Arshad passes away
We are grieved at the news of the death of a distinguished old Gallian Major General (Retd) Muhammad Arshad, Headboy 1957-58 (son of Ch. Abdul Hamid, Former Principal GG). He passed away in Islamabad on 16th of February, 2017.
The Principal, staff and Gallians express their sincerest condolence to the family and friends of Major General (Retd) Muhammad Arshad. May the departed soul rest in peace.