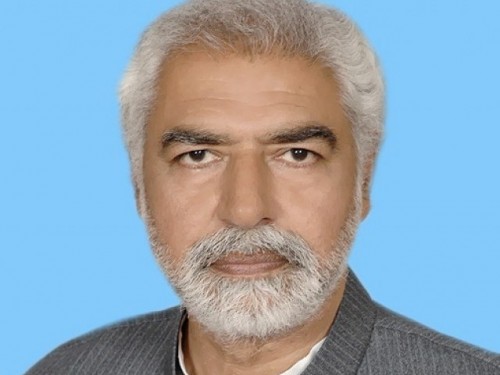 Ayaz Amir (Peake House 1958-64), is a prominent journalist, columnist and a senior politician. He was previously elected a Member of National Assembly representing Chakwal in 2008 as a candidate of Pakistan Muslim League (Nawaz), he resigned from the party on 19 April 2013 and joined Pakistan Tehreek e Insaf (PTI).
Political Career
He remained a Member of the Punjab Assembly representing Chakwal in 1990's but he resigned from PML-N in 1998 but later rejoined the party after PML-N's government was overthrown by a coup, in 2002 elections he banged 70,000 in comparable to the winner's 71,500. During this period Ayaz toed his party line and even remained steadfast in struggle against former dictator Gen Pervez Musharraf for the return of the Sharif family from exile. During the days since October 1999 to 2008, Amir took part in rallies to mobilise voters and supporters. He also remained actively involved in writing columns against the dictatorial rule of Musharraf.
He was elected on a PML-N ticket to the National Assembly from Chakwal representing the Constituency NA-60 in 2008 elections, he scored a record over 120,000 votes, the highest in Punjab. He resigned from the party on 19 April 2013. Nowadays, he is a bitter critic of PML-N. He is no longer critical of army intervention. In his articles, he appears to call for hard or soft coup.
Journalism Career
Ayaz Amir became famous as a columnist for the newspaper Dawn. But in 2008 after he was elected to the National Assembly, the newspaper discontinued his column citing a conflict of interest and asking him to choose between being a politician and commenting on current affairs. Consequently, Ayaz began to write for The News International. His columns are critical of the Pakistan army's role in politics throughout the history of the country. He is considered to be liberal, arguing passionately the case for rule of law, democracy, and an end to failed military rule along with extremist versions of Islam. In recent years he has written some controversial stories about the 1965 war with India . His articles are humorous yet spot-on, capturing the essence of scandals in the brewing. Ayaz Amir was a captain in Pakistan Army who resigned or released his commission. He also hosted a talk show "Counterpoint" on ARY One World television. He is known for his political satire.
Links:
External links
Literary Works:
Ayaz Amir is known for his work on The Darjeeling Limited (2007), Blue Oranges (2009) and The Cheetah Girls: One World (2008).
News Articles:
Ayaz Amir. "150 years of Lawrence College." The News, 8 October, 2010, p.6
Ayaz Amir, "A Raj Legacy we could have done without." The News, 25 October, 2013