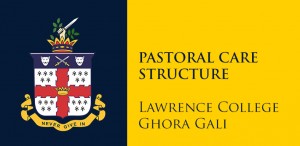 The Pastoral System at Lawrence College is based around a very strong and concisely laid out House system, a sense of safe and happy community, clear expectations, positive and strong relationships between boys, staff and parents. Fostering an atmosphere of care, in which all members of the community look out for each other is at the heart of all that we do at LCGG.
The pastoral care team comprises:
The Headmaster
Housemasters
Prefectorial
Masters on Duty (MOD)
House Bearers
Tutors
Religious Minister
Medical Staff
The Deputy Headmaster oversees all pastoral care and reports directly to the Headmaster.
All pupils are under the care of their Housemaster, who is their day-to-day mentor and is responsible for looking after them throughout their time at GG.
Each Housemaster takes a particular interest in every boys' academic work and extra-curricular commitments. The Housemaster ensures not to just bring out the competitive element in the students, but also develop a strong sense of leadership, commitment, team work and communication skills.
The Prefectorial system helps the Housemaster with two appointed Prefects for each House. The appointed Prefects offer a structure of care, strict discipline and act as a cushion between the Housemaster and students to resolve any issues that students may develop over time directly, without the interference of the Housemaster. For the new comers, the Prefects act as monitors to make sure the pupils settle in well and get acquainted to the rules and systems of the House in general and the School in particular.
Boys form strong bonds with their housemates throughout their time here, sharing invaluable experiences and building skills of generosity and teamwork.
Camaraderie is further strengthened by highly competitive inter-house competiton events (monitored closely and led by the Housemaster and Prefects) such as Academic, Co-Curricular and Sports competitions. Each year, the Houses go head to head in a bid to scoop the much-coveted Quaid e Azam Cock House Shield.
Students are free to consult the Faculty for any academic help at any time.
Housemasters are supported by a resident 'House Bearer' who looks after the domestic needs of each pupil in the House.
The local clinic caters for all the medical related issues for the pupils and if deemed necessary, forwards the individual case to the hospital.
There is also the Religious Minister, the Medical Staff and Faculty members whom any pupil can make an appointment to meet and discuss any problems they may have.