150 Years Of Lawrence College: Govt to issue commemorative Rs 20/- coins
Lawrence College commemorative coins go on sale
KARACHI, May 28: To commemorate the 150th year of the Lawrence College Ghora Gali, Murree, the State Bank of Pakistan launched Rs 20/- commemorative coins on Saturday. The coins went on sale at the exchange counters of all the 16 field offices of the SBP Banking Services Corporation.
In the span of one week, it's the second Rs 20/- commemorative coin that the SBP has introduced — the first was issued to celebrate the 60 years of the establishment of Pak-China diplomatic ties.
The heads, or obverse side of the coin, has the expanding crescent and a five-point star in the centre, signifying Pakistan's flag. Islami Jamhooria Pakistan inscribed in Urdu can be seen over the crescent, below which the year 2011 is given. The number 20 in bold letters as well as in Urdu flank the star. A circle of beads along the rim of the coin adds a decorative element to it. The monogram of the Lawrence College is shown on the tails, or reverse side, of the currency coin. Along the periphery '150 Year Celebrations — Lawrence College Ghora Gali Murree' can be read in English.
Talking to Dawn chief spokesmen for the SBP Syed Wasimuddin said: "We've minted 100,000 coins. We're giving no more than five pieces to one individual. It's a legal tender. As for why Lawrence College Ghora Gali, it was the federal cabinet's decision."
The coin is composed of copper (75 per cent) and nickel (25pc). Its diameter is 30mm and it weighs 9.5 grams.
Noted coin collector Rafique Kasbati said: "I think it's a good thing, but I'd again stress the fact that had it been in silver and in the Rs 100/- denomination, it'd have been better. The Rs 20/- coins that they issued to commemorate Pak-China diplomatic relations last week have now become rare. You can't find them at the National Bank of Pakistan. Their market value has touched the Rs 50/- mark. I don't think the value of this particular coin (Lawrence College) will increase that much. Some students might want to keep them though."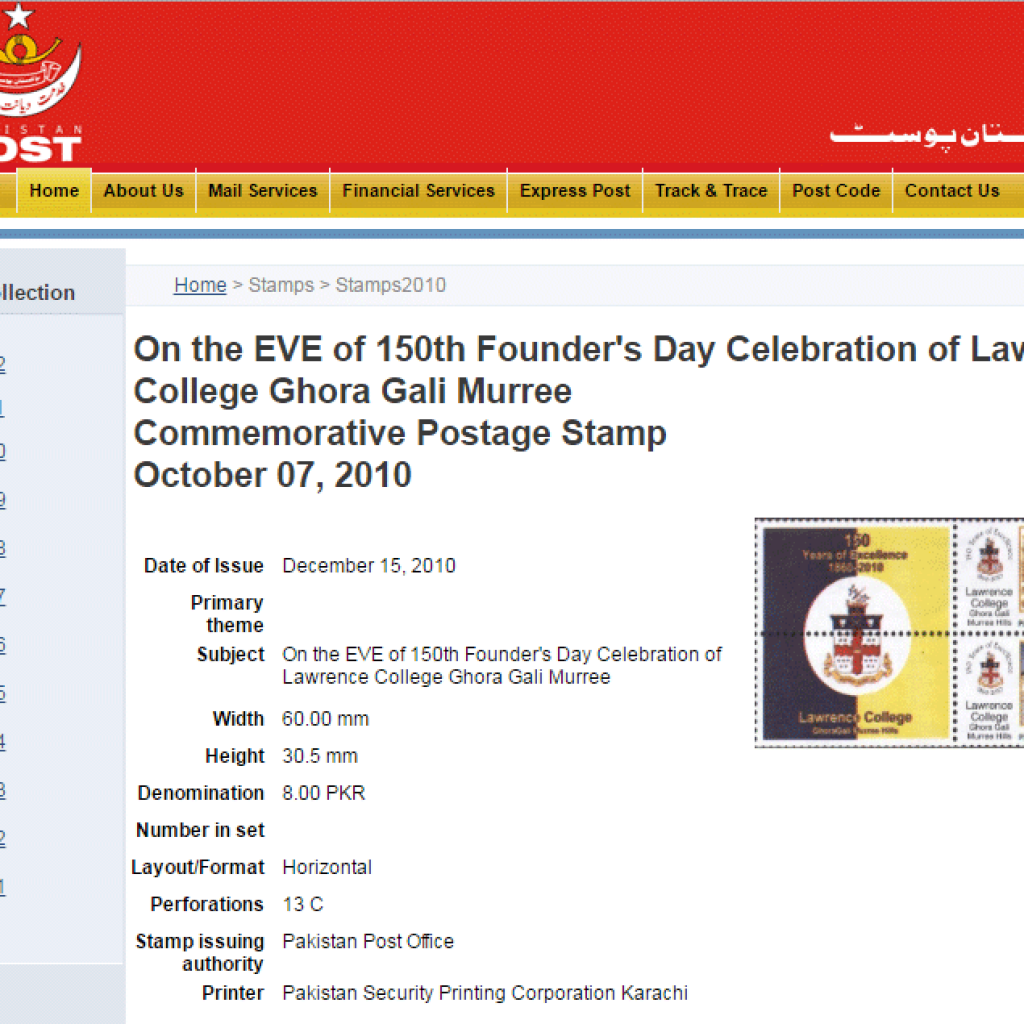 KARACHI Oct 6 The Pakistan Post will issue a set of four commemorative postage stamps of Rs 8/- denomination each on the eve of 150th founder's day celebration of Lawrence College, Ghora Gali, Murree Hills, on Wednesday.
Designed by Gibran Ali Syed, the stamp has been printed at the Pakistan Security Printing Corporation and will be made available at post offices from Wednesday, says a press release.