A Senior Old Gallian Passes Away
One of the illustrious Gallian, Col Muhammad Asghar (1950-1953), passed away on 13th March 2020. He was a Senior Old Gallian and a very talented professional. The Principal, faculty and Gallians express their sincerest grief to the family and friends of Col Muhammad Asghar. May Allah grant him high rank in Jannah.
Former President OGAB Mr. John Walker Passes away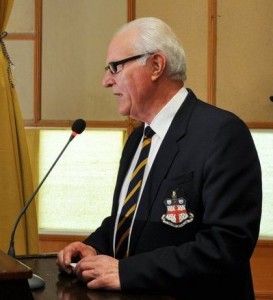 The Gallian family has learnt with great sadness of the  passing away in Manchester, England of a  distinguished old Gallian – John Walker (Walker House, 1940-1947).  He was 87 years at the time of his demise.  His funeral will take place at Guildford Crematorium  on Friday 3rd April, 2020.  John was a very dedicated Gallian and  regularly visited his alma mater while his health permitted.  For many years he was the organiser and secretary  of the UK Chapter of old Gallians.  His hospitality and welcoming nature will be dearly missed by old Gallians who visited him in England.  His forefathers too had been associated with Lawrence College, in one way or the other.
The Principal, Staff and Gallians express their sincerest condolence to the family and friends of John Walker.
For condolence
Alison Walker O'Niel (daughter)
+44 07946 1386977
Former Commandant EME College talks to the Faculty
Brigadier Tariq Javed (Retd), former Commandant College of Electrical and Mechanical Engineering, talked to the faculty of the College on 28th of February as a part of the two weeks training program. He is currently Advisor on Innovation to Pakistan Engineering Council.
Discussing different methodologies of teaching, Brigadier Tariq advised the faculty not to blindly follow the Western style of teaching. He stressed upon the need of research based learning where the students are encouraged to think out of the box. He said that the students should be made to have the confidence and inspiration for innovation and creativity as, in his point of view, the future of Pakistan lies in innovation. Discussing the skill of rote memorization, he said that the skill is widely criticized by many educationists but it is quite helpful in instilling the basic knowledge and information about different subjects.
The enlightening talk by Brigadier Tariq Javed was followed by presentations of Col. Dr. Imran and Dr. Yasir as part of their STEAM Programme that introduced modern techniques for teaching of different subjects, including mathematics and fine arts.
I CAN READ – A Workshop on Phonics
On February 20, 2020 Paramount Books (PVT) arranged a seminar on the topic 'I CAN READ'. The Seminar was about Phonics for pre-primary and primary level. Mr. Yu-Jin from Singapore and Mr. Luke Moos from America were the speakers for the session. Mrs. Bushra Sajjad and Mrs. Kiran Shezadi from the Junior School attended the seminar held at Ramada Hotel, Islamabad.
The purpose of the seminar was to explore new methods of teaching sounds to the pre-primary and primary students in an effective way. 'I CAN READ (ICR)' is a global English literacy organization that delivers a unique programme to improve students' English literacy skills. The seminar was designed to develop skills such as listening, speaking, reading, vocabulary building, phonemic and phonological awareness and much more. Both trainers had a good command on their subject. The strategies presented by them were relevant and fully applicable at junior level. It was a great learning experience for the participants.
Waleed Rafi makes Gallians feel Pride
Muhammad Waleed Rafi (Peake House, Inter 2014), son of Mr. Muhammad Rafi-ud-Din (Former Head of Pakistan Studies Department), made us proud by achieving Sir Syed Gold Medal on successfully completing Electrical Engineering (Specialization in Computer Engineering) from Center for Advanced Studies in Engineering, Islamabad.
Waleed was prefect Day Boys, captain of squash and martial arts teams. During his stay at Lawrence College Murree, he exhibited exquisite conduct and was very good in academics
The Principal, faculty and Gallians congratulate him on his excellent achievement and wish him the best in his career ahead of him.
Regional Languages towards National Integration
Lawrence College is a hub of lingual diversity as it admits students from all four provinces, Gilgit Baltistan and Azad Jammu & Kashmir. Principal LCGG realising the driving force of languages towards national integration, as enshrined in article 28 of constitution of Pakistan, has developed a corner in the library wherein books of regional languages have been shelved.
The books contain the historical, cultural and poetical perspective and variety of regional languages. Dictionaries have also been placed there for those who intend to learn and improve their skills in the regional languages.
The number of books is as below:
Pushto 105 books.

Punjabi 104 books.

Balochi 70 books.

Sindhi 101 books.
A Guidance Session by Col. Amanat Ali
As part of the career counselling, the College administration tries to avail every opportunity where the students could receive guidance to steer their energies in the right direction in pursuit of their aims in life. In the recent years, a visible increase in the number of our students interested to join the armed forces of Pakistan has been observed. At the moment, 15 of our students are currently under training in the PMA.
Keeping this factor in view, a guidance session was held on 8th of February, 2020. The session was conducted by Lt. Col. Rao Amanat Ali. The guest speaker has the experience of serving in ISSB as psychologist. He briefed the students about the selection phases of ISSB for joining the armed forces of Pakistan.
Kashmir Solidarity Day
Lawrence College celebrated Kashmir Solidarity Day on 5th of February, 2020. On this day, we intend to convey a strong message to the world community that every passing second of the curfew clock is adding to the sufferings of Kashmiris and at the same time it is bringing them close to their destination of independence and right of self-determination.
The day started with recitation from the Holy Quran and its translation by Talha Shoaib and Muhammad Bin Kashif Mirza from Class IX. Haithem Bin Sohail from Class XII threw light upon Kashmir issue and renewed the pledge, on behalf of the students, that they would stand by their Kashmiri brethren. Mr. Ahmadyar from Pakistan Studies Department, Mrs. Zareena Yousaf from Urdu Department and Mr. Basharat Hussain (HoD Pakistan Studies Department) dilated upon the historical background of the Kashmir issue and talked about the sufferings that the Kashmiri nation is going through.
The Principal, talking to the staff and students, said, "We all have gathered here to pay tribute to all the Ghazis who contributed in their brave struggle and all the Shuhada who gave their lives for freedom of Kashmir. At the same time, we must acknowledge and honour all the Kashmiri in the Indian-held Kashmir; the men, the women, the old people and the children who continue to face the brutality and troubles so bravely. It is something that we and entire World must acknowledge and also pay attention and that is what we are here for.
The next thing is that you have heard about the historical background of the Kashmir issue and the principle, legal, moral and ethical stance of Kashmiris and Pakistanis on this issue is absolutely correct and they should always uphold this principle and right. We should never show any weakness in that. We should never waiver from our stance at any national or international forum. But having said this, I would come to something more profound and more important for all of you to think about and reflect. Every year, we observe this day through different seminars, conferences and taking out processions, etc. The point of introspection is whether doing all this is enough to help Kashmiris get freedom or we need something radically different. The fact is that no nation in the world History was presented freedom in a plate. Any nation that got freedom, they got it with their wisdom, intelligence and then their strength, and not just through lectures or conferences. We need to know that the United Nations is not a potent, fair or just organization and they would never take a stand on this issue. The curfew in Jammu and Kasmir has prolonged for six months but the OIC could not call its meeting on the issue. This is the condition of the Unity in the Muslim Ummah. Many Muslim countries have supported the American Peace Plan regarding Palestine. In our own country, the political forces are not united on the national issues including economy, international politics and our interior policies. I am saying this because we need to carry out a hard introspection to know what we actually need to do so that the international community would pay heed to what we claim about Kashmir or other issues. We need to strengthen ourselves and if we succeed in it, the whole World will listen to us. Giving example of China, he said that we need to learn wisdom and intelligence from China. They had many international territorial issues, but they did not take them up until they became world power. They focused on their progress and development until they reached a state where the world community has no choice but to agree with them. Following their strategy, we also need to progress in science, technology and other fields. That is the only way through which we can earn a position of respect for our nation in the comity of nations."
Mr. Najam Us Saqib Hashmi Passes Away
The Principal, faculty and students of Lawrence College express their sincere condolence to the family of Mr. Najam Us Saqib Hashmi, former faculty member Senior School (1963 to 1983). Mr. Najam Us Saqib passed away on 2nd January, 2020.
During his stay at Lawrence College, he held many offices. He was Controller of Examinations, Head of Biology Department and Housemaster Jinnah House from 1979 to 1983. Mr. Najam was a talented teacher and an excellent human being. He possessed a methodical mind and was a highly disciplined person. His colleagues remember him with fond memories. May Allah grant him high rank in Jannah.