Expansion and Renovation of the Senior School Masjid
Senior School Masjid was constructed almost 51 years ago in 1970. With the increased number of devotees who come to offer prayers there, the need for expansion in the main hall of the masjid was felt. It was important, keeping in view the climate of Murree to accommodate larger number of worshippers inside the hall during rain or snow.
The present hall of the Masjid, which could accommodate around 250 persons, has been extended to its western side, creating an extra space for two hundred persons. Now more than 450 people can offer prayers inside the hall in a comfortable manner. The old windows have been replaced with beautiful large windows which not only allow ample daylight and fresh air to ventilate the hall, but also present the scenic view of the greenery around. The special addition to the hall has been a large window for skylight in the roof that not only allows the sunlight to lighten up the hall but presents the picturesque view of the pine covered surroundings. Ceiling of the hall has also been replaced. New lights and sound system have been installed in the ceiling for equal distribution of the light and sound. 
In the last few years, a large number of development projects have been realized including new housing blocks in the houses, staff residential blocks, gymnasiums, basketball courts, badminton courts, bakery and numerous other projects but special importance was given to the expansion of the Senior School Masjid. By the grace of Allah we now have a beautiful Masjid in Senior School which provides complete tranquility and serenity to the devotees.
Mr. Abbas Khan (SC-56), former IG KPK, Passes Away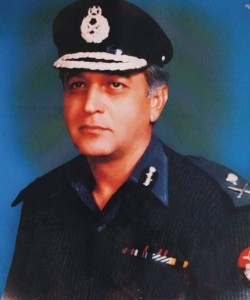 Mr. Abbas Khan, former IG KPK, passed away in Charsadda on 31st March, 2021. He was SP Dacca during 1971 War and remained a prisoner of war in India for two years. He will be missed by his family and friends with much grief.
The Principal, faculty and Gallians express their sincerest condolence to the family and friends of Mr. Abbas Khan. May Allah grant him high rank in Jannat.
Pakistan Day
Lawrence College observed 81st Pakistan Day with national zeal and zest. Young Gallians participated in House-wise functions with the spirit of patriotism. A central ceremony could not be held because of Covid-19, therefore the students of all the houses of the three schools (Peake, Walker, Wightwick and Wright) observed Pakistan Day in their respective houses.
Young Gallians shared their thoughts on Pakistan Resolution, its importance and our responsibilities in the 21st Century. The boys paid homage to the unbeaten services of Sir Syed Ahmed Khan, Chaudhry Rehmat Ali, Allama Muhammad Iqbal, Liaquat Ali Khan, Mohtarama Fatima Jinnah and Quaid-e-Azam Muhammad Ali Jinnah including others who struggled during the formative phase. Without their untiring efforts, the making of a separate homeland for the Muslims of the Sub-Continent would not have been possible. The celebrations included recitation from the Holy Quran with translation, speeches, documentaries, videos, national songs and national anthem that enriched the beauty of the day.
Principal, Brigadier Mujahid Alam (Retd), highly appreciated the staff and students for celebrating Pakistan Day in such a dignified manner. He particularly expressed his pleasure on participation of a large number of students in these house-wise functions.
A Senior Old Gallian Passes Away
One of the illustrious Gallians of the 50's era Lt. Col Muhammad Iqbal (Retd) passed away on 16th March, 2021 He was a senior old Gallian and a very talented professional. He always had a soft and pleasant personality. His friends remember him for his love, generosity and comradeship. He will be missed by his family and friends with much grief.
The Principal, faculty and Gallians express their sincerest grief to the family and friends of Lt. Col Iqbal. May Allah grant him high rank in Jannat.
Distinguished old Gallian, Mr. Anis Khan Satti, Passes away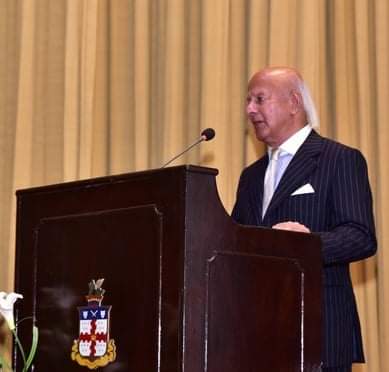 The sad news of the demise of an illustrious old Gallian, Head Boy 1953-55, Mr. Anis Khan Satti, left all of us deeply grieved. He died on 22 February 2021, at Rawalpindi.
Mr. Anis Khan Satti, (Peake House 1948 to 1955) did his Senior Cambridge and Higher Senior Cambridge from the College. He was appointed head boy of the College in 1953 and served as the Head Boy from 1953 to 1955. After a nationwide competition, he was selected to represent Pakistan in the 1956 World Youth Forum in the United States, which consisted of fifty students from fifty countries.
Mr. Anis Khan Satti completed his studies at Colgate University, Hamilton, New York, where he was elected President of the Student Body. He was the first foreigner to hold this position in a major University in the United States. After completing his education, he, along with his partners, set up a financial publishing business on Wall Street, which consisted of magazines, newspapers, conferences and seminars on finance. Institutional Investor continues today as a successful financial publishing enterprise. Its fast rise to success and fame made "Time" magazine referring to the Company as the "Wonder Boys of the Wall Street".
Mr. Anis Khan Satti was appointed as Pakistan's Delegate to the United Nations in 1978 and he served as a Presidential Envoy in 1980. He is perhaps the only Pakistani who never became an American citizen after living in America for about 50 years, but kept his Pakistani citizenship and returned to his motherland in 2008.
Mr. Anis Khan Satti was currently a member of the Board of Governors of Lawrence College. He was very close to the hearts of Gallians, old Gallians, faculty and administration of Lawrence College. Mr. Satti was a very compassionate person and was loved by Gallians due to his loving nature. He was an institution in himself and was a great source of guidance for the GG community. He used to regularly visit his alma mater and attended different functions of the College with great interest and enthusiasm.
Principal Lawrence College, faculty, staff and Gallians express their sincerest condolence to the family and friends of Mr. Anis Khan Satti. May Allah bless his soul in eternal peace and grant him high rank in Jannat.
College Museum Updated
A museum brings people to the objects, relics, manuscript and artifacts on display, intending to provide important information about the past and how civilization changes from one time period to another. 
A museum engages its visitors to have an insight of historical events and foster deeper understanding of civilizational and cultural diversity and transition, making connections of the past and present generation.
The LCGG Museum, established in 2017, has been updated in November 2020, is one such effort to keep the youth connected to our legacy and history. With its splendid displays of range of group photos, photo albums, old handicrafts, older record of registers, planners, medical equipment, newsletters, magazines, telephone exchange and many other archives, it takes the visitors down the memory lane.  The museum also exhibits different handmade tools, logos and models made by the students in the past. It is located on a beautiful and distinct place in the campus glorifying the LCGG heritage. 
We are highly obliged to  Mr. Saleem Asghar  Ali (Bahrain) Wright House 1961-1964, an old Gallian who has donated a handsome amount for updating the Museum. Such great names have always been a source of motivation for the rest of the Gallians to contribute for their alma mater.
Bakes & Bites (Lawrence College Bakery)
Lawrence College truly believes in adapting to the rising challenges through need-based approach, which focuses on the LCGG community's needs, demands and requirements. To effectively address such needs, the College administration ensures a sustainable action engaging the available resources with no compromise on quality results.
Since long, there was a need for a bakery in order to provide fresh, nutritious, hygienic and cost effective items to the students and staff. Alhamdulillah we achieved this milestone recently and the college bakery has started functioning from mid–January, 2021. The college bakery is well equipped with latest baking units, professionally trained chefs and all the necessary hygienic material. It has started providing regular bakery items for regular meals of the students and will cater to the residential staff families' daily requirements too.
LCGG always takes pride in serving at its best and it's a matter of great satisfaction to ensure provision of high quality bakery items for the students and staff.