Senior School Commemorates Abdul Sattar Edhi
Special house assemblies were organized in Senior School on July 15, 2021 to commemorate the services of great Abdul Sattar Edhi. Abdul Sattar Edhi is known to be among the great philanthropists of the time who spent his whole life in serving the needy and distressed. He always preached unity and was a strong opponent of religious or social discrimination. His services were not limited to any particular community and did everything possible even for comfort of the animals and birds. Each house conducted the assembly at its particular venue where the students and teachers talked about unmatched contribution of Mr. Edhi and his great spouse Bilquis Edhi.
The following participants took part in the house assemblies:
House
Conduct of Assembly
Recitation
Speech by the Students
Talk by the Teachers
Peake

Raza Ali Khan,




Mian Murtaza Asim

Adil Imran,




Anas Bin Intikhab

Daim Ali,




Abeer Bin Umair

Mr. Basharat Hussain

Walker

M. Nafay

M. Arslan

Sameer Ali Bhatti

Mr. Haider Zaman

Wightwick

Sanaullah,




Mohsin Imran

Tashfeen Abbasi

Umer Habib Khan

Mr. Ahmed Abdullah,




Mr. Ahmadyar

Wright

Tehzeeb-ul-Hassan

Ajlan Abbas

Abdullah Sohail,




Tehzeeb-ul-Hassan

–
The students and teachers highlighted the important aspects of the life of Abdul Sattar Edhi and the services rendered by Edhi Foundation. They advised the students to actively participate in different welfare activities as our religion teaches us to serve humanity without any discrimination or prejudice. Serving humanity should be the top priority in the life of a Muslim as that is the most important source of seeking the pleasure of Allah Almighty as Allah loves those who love their fellow beings.
Farewell Dinner in Honour of Intermediate and Senior Cambridge 21
Farewell, more than saying goodbye, is a time to encourage and give your best wishes to near and dear ones and is an opportunity to express your emotions. With the same spirit, a farewell dinner was held on 13th of July, 2021 in honour of the Intermediate and Senior Cambridge 2021. Brig. (Retd) Mujahid Alam, Principal Lawrence College, was the chief guest on the occasion.
Korush Ahmad from Class XI conducted the function in an extremely efficient manner. In his opening note, he welcomed all the guests to the farewell dinner. The function started with recitation from the Holy Quran and its translation by Hafiz Muhammad Subhan from Class XII and Samiullah Ahtsham from Class XI respectively. After the recitation, Noraiz Masood from Class XI, in his farewell note, expressed his views and counted the memories they had attached with the outgoing Intermediate class. He said they were a source of motivation and inspiration for them and will be remembered forever as part of LCGG.
The Head Boy, Hassan Yar Mohal, shared his feelings on the occasion. He talked of those who contributed to their grooming and training including the support staff, teachers, housemasters, the Vice Principal and the Principal. He said that without efforts and dedication of all these people, they would not have been what they are today. He advised his juniors to display exemplary conduct.
After speech by the Head Boy, outgoing Intermediate and Senior Cambridge students were awarded shields as a token of memory. On special instructions of the Principal, the students were also presented translation of Surah Al-Falaq and Surah An-Naas with best wishes and prayers for their protection and success.
Then Principal, in his speech, wished the best of luck to the students for their future. He advised the students to have a spotless character as this is the time when they are going to face the real challenges of life. He told them that it was their own College and they could visit it whenever they desire. The Principal appreciated the contribution of the outgoing Intermediate class. He expressed his hope that they are going to play their positive role in the society as responsible citizens. The Principal appreciated the efforts of the admin and catering staff in organizing the function.
Carpeting of Road to the Senior School
Lawrence College administration, with its forward-looking approach, has always been keen to bring every possible improvement in infrastructure that would help raise the overall standards of the College. The new carpeted road, from the main gate to the Senior School Mess, is one such example.
The road leading to the Senior School had been in a dilapidated condition and needed urgent renovation. The maintenance department, under supervision of Admin. Officer Major Imran Malik, made an excellent plan for renovation of the road. The plan got materialized in the first week of July, 2021. The attractive winding carpeted road has complemented the beauty and grandeur of the campus. The Principal and all the staff have appreciated the efforts of the maintenance department for construction of the road.
Peake House Stands Out In Prep School Inter-House Qir'at Contest-2021
The beatific, Inter-House Qir'at Competition-2021, was held at Prep School Mosque, on Friday, July 9, 2021. The Headmaster Prep School, Mr Imtiaz Akhtar Ranjha, was the chief guest.
Saad Musa of class-7, the stage secretary, was supported by Sardar Muhammad Ahmed and Rehan Malik of class-7. Twenty-four participants recited different sacred suras and verses of the Holy Qur'an. Gallians of class- 5, 6 and 7, took part in the contest with religious sanctity and fervour.
The Headmaster Prep School, Mr Imtiaz Akhtar Ranjha, announced the individual and House positions. Shaheer Khan, Abdullah Tahseen and Muhammad Momin Savul stood first in grade-5, 6 and 7, respectively. Peake House secured first position followed by Wright House.  
The Headmaster, in his short address, highly appreciated the standard of recitation of each and every partaker. He also shared that the overall quality of Qir'at and its related areas has improved a lot. He further stressed the need to understand the Holy Qur'an which was as important as recitation.  
He winded his speech up by thanking the honourable judges and House staff for organizing such a graceful ceremony.
Gallians Of Prep School Observe Edhi Day-2021
Gallians of Prep School observed Edhi Day on Thursday, 8 July, 2021, in the House-wise morning assemblies and classes. After recitation and translation, the boys made short speeches on    Abdul Sattar Edhi, both in English and Urdu.
The speakers shared their thoughts on life and works of Mr. Edhi. They talked about ambulance and hospital services, old homes and orphanage centres and rehabilitation  and animal centres. In the classrooms, the boys watched videos, discussed and wrote essays on Mr. Edhi – his life and works. It's an amazing fact that Mr. Edhi was the guardian of more than 20,000 children at the time of his sad demise.
Mr. Edhi served with the aim, 'No religion is higher than humanity.' In his social work, he strictly set creed, caste, religion, region, language , colour or any other bias aside.
Mr. Edhi was born on January 1, 1928, and met the Almighty on July 8, 2016. He also donated his eyes which were transplanted to a needy person. He was called, 'Baba-e-Khidmat', 'Angel of Mercy', and, 'The Richest Poor Man.' He received many national and international awards for serving the humanity.
Mr Imtiaz Akhtar Ranjha, the Headmaster Prep School, advised the boys to take an active part in social work and follow Mr. Edhi's way of life.
A Senior Old Gallian, Mr. Bashir Ahmed, Passes Away
One of the senior old Gallians, Head Boy of the College, 1947, Mr. Bashir Ahmed, passed away in Mansehra yesterday. He had the singular honour of raising Pakistani flag on 14 August 1947, replacing the Union Jack.
Mr. Bashir Ahmed, known as Bash by his peers, held many important posts in the civil service of Pakistan, was a banker and founder of Khyber Bank Ltd. He had great affiliation with his alma mater and regularly visited College during his service and life after retirement.
Principal Lawrence College, faculty and Gallians express their sincerest condolence to the family and friends of Mr. Bashir Ahmed. We pray for his forgiveness and high rank in Jannat. May the departed soul rest in eternal peace.
Training Workshop by Ms. Zehra Kamal Alam
Teaching training is an integral part of the educational development. With the same spirit, the administration at LCGG is keen to look for opportunities where professional skills of teachers could be improved.
One such workshop has been conducted by Ms. Zehra Kamal Alam. Ms. Zehra is a seasoned clinical psychologist. She has done masters in clinical psychologist from the University of Karachi and masters in Psychology of Education from the University of Columbia USA. She has also specialized in global mental health and trauma. She has been working on mental health and violence and rights issues for the past twenty two years. She is currently having her private practice where she treats clients and offer services to school systems and various NGOs.
The workshop aimed at discussing different issues regarding protection and safety of children and devising plans to resolve such issues. The sessions were attended by housemasters/housemistresses, AHMs and other faculty members. The problems were highlighted and measures to handle such issues were also discussed. Ms. Zehra Kamal conducted these sessions in an extremely efficient manner where everyone could discuss the problems openly and Ms. Zehra came up with pertinent measures to handle different situations regarding mental and emotional health of students.
All the faculty members found the sessions very useful which gave them knowledge and awareness regarding certain issues. The Principal and faculty thanked Ms. Zehra Kamal Alam for sparing time from her busy schedule and organizing such wonderful training programme.
Workshop on Cyber Safety
Cyber safety is a very sensitive issue and it's the need of the hour to sensitize our young generation about the significance of digital safety and adopting appropriate online behaviours.
Keeping these objectives in mind, LCGG collaborated with ITA (Idara-e-Taleem-o-Aagahi) to conduct the orientation sessions for our young learners.
A team of three trainers shared their experience about cyber safety, guided the students about threats of the digital world today and how to be resilient as well as cyber safe on 30th of June, 2021. Children enjoyed the discussion thoroughly and resolved to be digitally more literate. They played online game to assess their own learning about cyber safety.
We at LCGG are extremely thankful to (ITA &Telenor) for providing this much needed learning opportunity for the mutual benefit of students and teachers on campus.
Qirat Competition Junior School 2021
The Holy Qur'an is the light of heavens.  It is full of wisdom and guidance to the correct path. Qur'an is guidance for mankind and the complete code of life.
 Junior School organized Qirat Competition on 18th June. The Holy Qur'an Recitation Competition aims to promote literacy in the Qur'an and encourage its recitation, memorization and try to apply its spirit in life. The event was conducted gracefully by Mubashir Jamali (Wright House), M. Ahmed (Peake House), Ahmed Basheer (Walker House) and M. Zain Mehdi (Wightwick House). The judges of the competition were Mr. Abdul Majid (HOD, Islamiat),
Mr. Ahmed Abdullah and Mr. Atta-ur-Rehman (Senior School). Eight boys from each house participated in the competition. During the competition a few young Gallians narrated naat in their unique and melodious voices. A quiz session was held which was encouraging to see the knowledge of students of the Quran. Mr. Abdul Majid announced the results of the event and also appreciated the boys on their performance.
Individual and house positions are as follow:
Class I

Name of Student

Position

House

Muhammad Ayyan

1st

 Peake

Saad bin Waqas                             

2nd
Peake
Hassan Riaz
3rd

Wright

Class II

Name of Student

Position

House

Hassan Talpur

1st
Wright

Hassan Ahmed

2nd

Walker

Umer Abrejo
3rd

Wright

Class III

Name of Student

Position

House

M. Ahmed Abdullah

1st
Peake

Muhammad Javed

2nd

Peake

Yousf Talpur
3rd

Wright

Class IV

Name of Student

Position

House

Anas Khan

1st

Wright

Ahmed Akbar

2nd

Peake

Muhammad Saim

3rd

Walker
HOUSE POSITION 2021
| | |
| --- | --- |
| House | Position |
| Wright | 1st |
| Peake | 2nd |
| Walker | 3rd |
| Wightwick | 4th |
At the end Headmistress of Junior School, Ms. Naheed Nadeem, threw some light on the importance of Qirat Competition and appreciated the participants on their hard work.
Prep School Collaborates With Beaconhouse Lahore In International School Award Activity-2021
Prep School organized an activity on endangered species in collaboration with Beaconhouse School System, Lahore, on June 10, 2021. The research activity was conducted with support of the International School Award Programme. The Programme is being managed by the British Council.
The title of the project was 'One by one until there are none.' The aim of this work was to develop awareness and sense of responsibility among the students and to draw their attention to the environmental challenges in today's world.
Gallians completed their research on wholly flying squirrels, snow leopard, markhors and mountain weasels in Lawrence College, Murree and Wildlife Park, Bansra Gali.  On the other hand, Beaconhouse completed their task on biodiversity and endangered species of Lahore along with flora of the area.
In an online session, the students of both schools shared their outcomes. Such activities enhance the confidence of the students and strengthen their bonds with other institutions. They may polish their key skills of observation, exploration and analysis through these joint sessions.
A Dedicated Soul, Mr. Fayyaz Hussain Passes Away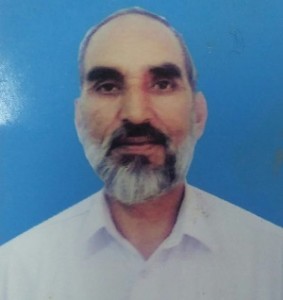 Mr. Fayyaz Hussain, a dedicated and honest member of the support staff, died of cardiac arrest on 29th of May, 2021. Mr. Fayyaz joined Lawrence College on 1st of February, 1984. Currently he was working in office of the Controller of Examinations Senior School. He was dutiful and sincere, always busy in his work with a smiling face and humble manner. The news of his death was heard with much grief by the faculty and rest of the staff.
The Principal, staff and students express their sincerest condolence to the family of Mr. Fayyaz. We pray for his forgiveness and high rank in Jannat.
Expansion and Renovation of the Senior School Masjid
Senior School Masjid was constructed almost 51 years ago in 1970. With the increased number of devotees who come to offer prayers there, the need for expansion in the main hall of the masjid was felt. It was important, keeping in view the climate of Murree to accommodate larger number of worshippers inside the hall during rain or snow.
The present hall of the Masjid, which could accommodate around 250 persons, has been extended to its western side, creating an extra space for two hundred persons. Now more than 450 people can offer prayers inside the hall in a comfortable manner. The old windows have been replaced with beautiful large windows which not only allow ample daylight and fresh air to ventilate the hall, but also present the scenic view of the greenery around. The special addition to the hall has been a large window for skylight in the roof that not only allows the sunlight to lighten up the hall but presents the picturesque view of the pine covered surroundings. Ceiling of the hall has also been replaced. New lights and sound system have been installed in the ceiling for equal distribution of the light and sound. 
In the last few years, a large number of development projects have been realized including new housing blocks in the houses, staff residential blocks, gymnasiums, basketball courts, badminton courts, bakery and numerous other projects but special importance was given to the expansion of the Senior School Masjid. By the grace of Allah we now have a beautiful Masjid in Senior School which provides complete tranquility and serenity to the devotees.
Mr. Abbas Khan (SC-56), former IG KPK, Passes Away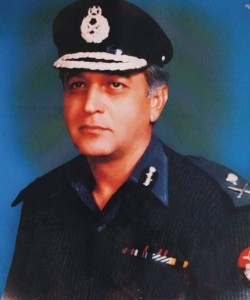 Mr. Abbas Khan, former IG KPK, passed away in Charsadda on 31st March, 2021. He was SP Dacca during 1971 War and remained a prisoner of war in India for two years. He will be missed by his family and friends with much grief.
The Principal, faculty and Gallians express their sincerest condolence to the family and friends of Mr. Abbas Khan. May Allah grant him high rank in Jannat.
Pakistan Day
Lawrence College observed 81st Pakistan Day with national zeal and zest. Young Gallians participated in House-wise functions with the spirit of patriotism. A central ceremony could not be held because of Covid-19, therefore the students of all the houses of the three schools (Peake, Walker, Wightwick and Wright) observed Pakistan Day in their respective houses.
Young Gallians shared their thoughts on Pakistan Resolution, its importance and our responsibilities in the 21st Century. The boys paid homage to the unbeaten services of Sir Syed Ahmed Khan, Chaudhry Rehmat Ali, Allama Muhammad Iqbal, Liaquat Ali Khan, Mohtarama Fatima Jinnah and Quaid-e-Azam Muhammad Ali Jinnah including others who struggled during the formative phase. Without their untiring efforts, the making of a separate homeland for the Muslims of the Sub-Continent would not have been possible. The celebrations included recitation from the Holy Quran with translation, speeches, documentaries, videos, national songs and national anthem that enriched the beauty of the day.
Principal, Brigadier Mujahid Alam (Retd), highly appreciated the staff and students for celebrating Pakistan Day in such a dignified manner. He particularly expressed his pleasure on participation of a large number of students in these house-wise functions.
A Senior Old Gallian Passes Away
One of the illustrious Gallians of the 50's era Lt. Col Muhammad Iqbal (Retd) passed away on 16th March, 2021 He was a senior old Gallian and a very talented professional. He always had a soft and pleasant personality. His friends remember him for his love, generosity and comradeship. He will be missed by his family and friends with much grief.
The Principal, faculty and Gallians express their sincerest grief to the family and friends of Lt. Col Iqbal. May Allah grant him high rank in Jannat.
Distinguished old Gallian, Mr. Anis Khan Satti, Passes away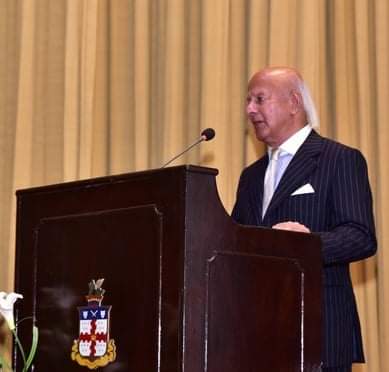 The sad news of the demise of an illustrious old Gallian, Head Boy 1953-55, Mr. Anis Khan Satti, left all of us deeply grieved. He died on 22 February 2021, at Rawalpindi.
Mr. Anis Khan Satti, (Peake House 1948 to 1955) did his Senior Cambridge and Higher Senior Cambridge from the College. He was appointed head boy of the College in 1953 and served as the Head Boy from 1953 to 1955. After a nationwide competition, he was selected to represent Pakistan in the 1956 World Youth Forum in the United States, which consisted of fifty students from fifty countries.
Mr. Anis Khan Satti completed his studies at Colgate University, Hamilton, New York, where he was elected President of the Student Body. He was the first foreigner to hold this position in a major University in the United States. After completing his education, he, along with his partners, set up a financial publishing business on Wall Street, which consisted of magazines, newspapers, conferences and seminars on finance. Institutional Investor continues today as a successful financial publishing enterprise. Its fast rise to success and fame made "Time" magazine referring to the Company as the "Wonder Boys of the Wall Street".
Mr. Anis Khan Satti was appointed as Pakistan's Delegate to the United Nations in 1978 and he served as a Presidential Envoy in 1980. He is perhaps the only Pakistani who never became an American citizen after living in America for about 50 years, but kept his Pakistani citizenship and returned to his motherland in 2008.
Mr. Anis Khan Satti was currently a member of the Board of Governors of Lawrence College. He was very close to the hearts of Gallians, old Gallians, faculty and administration of Lawrence College. Mr. Satti was a very compassionate person and was loved by Gallians due to his loving nature. He was an institution in himself and was a great source of guidance for the GG community. He used to regularly visit his alma mater and attended different functions of the College with great interest and enthusiasm.
Principal Lawrence College, faculty, staff and Gallians express their sincerest condolence to the family and friends of Mr. Anis Khan Satti. May Allah bless his soul in eternal peace and grant him high rank in Jannat.
College Museum Updated
A museum brings people to the objects, relics, manuscript and artifacts on display, intending to provide important information about the past and how civilization changes from one time period to another. 
A museum engages its visitors to have an insight of historical events and foster deeper understanding of civilizational and cultural diversity and transition, making connections of the past and present generation.
The LCGG Museum, established in 2017, has been updated in November 2020, is one such effort to keep the youth connected to our legacy and history. With its splendid displays of range of group photos, photo albums, old handicrafts, older record of registers, planners, medical equipment, newsletters, magazines, telephone exchange and many other archives, it takes the visitors down the memory lane.  The museum also exhibits different handmade tools, logos and models made by the students in the past. It is located on a beautiful and distinct place in the campus glorifying the LCGG heritage. 
We are highly obliged to  Mr. Saleem Asghar  Ali (Bahrain) Wright House 1961-1964, an old Gallian who has donated a handsome amount for updating the Museum. Such great names have always been a source of motivation for the rest of the Gallians to contribute for their alma mater.
Bakes & Bites (Lawrence College Bakery)
Lawrence College truly believes in adapting to the rising challenges through need-based approach, which focuses on the LCGG community's needs, demands and requirements. To effectively address such needs, the College administration ensures a sustainable action engaging the available resources with no compromise on quality results.
Since long, there was a need for a bakery in order to provide fresh, nutritious, hygienic and cost effective items to the students and staff. Alhamdulillah we achieved this milestone recently and the college bakery has started functioning from mid–January, 2021. The college bakery is well equipped with latest baking units, professionally trained chefs and all the necessary hygienic material. It has started providing regular bakery items for regular meals of the students and will cater to the residential staff families' daily requirements too.
LCGG always takes pride in serving at its best and it's a matter of great satisfaction to ensure provision of high quality bakery items for the students and staff.